By Mark Traphagen on September 30, 2010
UPDATE: Watch Bulltown Strutters Mini-Documentary Video from Marry Durham
I love Durham.
Tonight at the second rehearsal of the Bulltown Strutters Band, Durham's new New Orlean's second line marching band extravaganza, we just felt like we needed to start steppin'. After going over a few tunes in one member's living room, we decided to practice playing while marching in a church parking lot nearby.
But as soon as we left the front porch, we just couldn't help ourselves. A drum cadence started, and the next thing you know we were strutting down the sidewalk of a city residential neighborhood at 9 o'clock at night, belting out Lil' Liza Jane.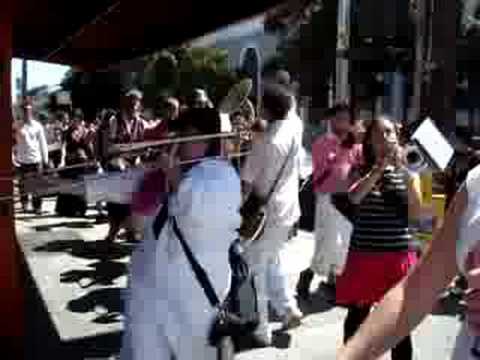 Video of Brass Liberation Orchestra marching to "Lil' Liza Jane." We want to be them when we grow up.
In any other town where I've lived the police would have been there in five minutes. But this is Durham. People in the neighborhood came out on their porches and front stoops to wave and clap. When we stopped playing, the air filled with cheers and whoops. Durham is a city where a parade can break out at any moment, and people embrace the Sacred Now.
I love Durham.