By Mark Traphagen on May 4, 2009
At one time, most music was free, spontaneous, and generated out of a community. This was folk music before it became a genre in the record store or iTunes. People picked up whatever instruments were at hand (or that they could make) and played not to be popular, not to get a hit on the charts, not to land a deal with a record company. They played for the sheer joy of it.
And their music was community-cohesive and community-building.
Today I want to celebrate that kind of music. Today I want to celebrate Durham's own Scene of the Crime Rovers Band. Our family ran into them three times this past Saturday: at the local farmer's market, at a downtown strawberry festival, and at my grandson's school's spring carnival. They're loud, they're crude, they're out of tune…and I want to go buy a used baritone horn and join them!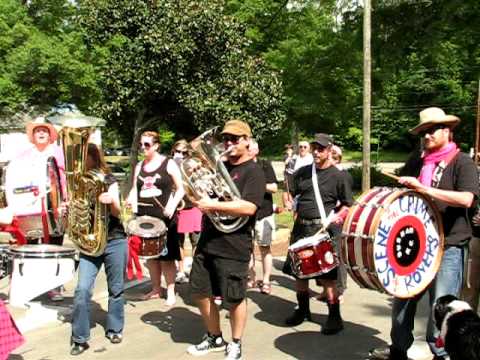 Video by me. Filmed 3/2/09
Here's the band's mission statement from their Myspace page:
Take creative music out of the traditional music venue and into public spaces where it may be enjoyed at no cost by a wider cross-section of the community.
Play to promote community events such as benefits or social justice actions that the group believes are worthy causes
Compose and perform only works that allow musicians at every level of experience (beginner to professional) to participate in the band
Collaborate with the artists/creative individuals/arts organizations to create multi-arts projects that allow for participation from artists of all disciplines.